There are not many part of our everyday clothing, that are so exposed to the adverse impact of the environment, like footwear. It has constant contact with moisture and dirt and is exposed to colonization by mocrobes. In addition, clean and neat shoes are the business card of his user.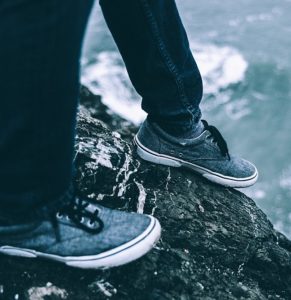 ITP-System has developed a full range of products for the care, cleaning and protection of footwear. Most products can be applied directly on shoes during use. Nevertheless, we also have technologies that allows protection your footwear at the manufacturing stage. It guarantees the best durability and highest activity. Thanks to the experience of our team, we can penetrate directly into the structure of the used materials. Utilizing their chemical nature causes permanently bonding with substrate. Thanks to this, we can achieve excellent durability of the applied coatings. Thanks to this, friction, temperature, contact with water, moisture, cleaning agents, road salt or other chemicals is not a problem.
Moreover, the technologies we use do not limit the phenomenon of "breathing" of footwear. It means the flowing of gases (including water vapor) between the interior of the shoe and the exterior. It is a key factor that allows quick drying of shoes, and what is related to this – to reducing the growing of fungi and bacteria.
Athlete's foot – dangerous enemy for everybody
The most dangerous guests of our footwear are undoubted fungi. They adapt well to living in a humid environment, so that shoes filled with moisture and peeled skin residues, are a perfect place for them. It is estimated that as much as 42% of the population suffers from athlete's foot, and in some professions (steelwork, miners, soldiers) it reaches as much as 70%! Therefore, athlete's foot is a civilization disease with which one we can stand up to an equal fight, using the achievements of nanotechnology!
ITP-System technologies can also protect footwear against oils, fatty substances and can give antistatic properties. Such features allow you to create footwear for special applications in many industries.
We invite you to check the catalog of products for the care and protection of footwear.