Paint correction is an obligatory step that leads to full restoration of the paint. The use of even the best waxes, sealants and coatings will never give even a similar effect.

The experienced detailer is able to bring appearance of car paint to state of of a salon car. Unfortunately, paint corretion is the most time-consuming step car of detailing. Before polishing the paint, the car must be thoroughly cleaned.  Removing dirt that is firmly embedded in the paint is necessary step. After the vehicle is completely drained, it is necessary to fully inspect the condition of the paint of the vehicle. This allows you to plan your work accurately and select the appropriate compounds and tools. Of course, it is also recommended to check the thickness of the paint. It protectsfrom excessively depleting the clear coat.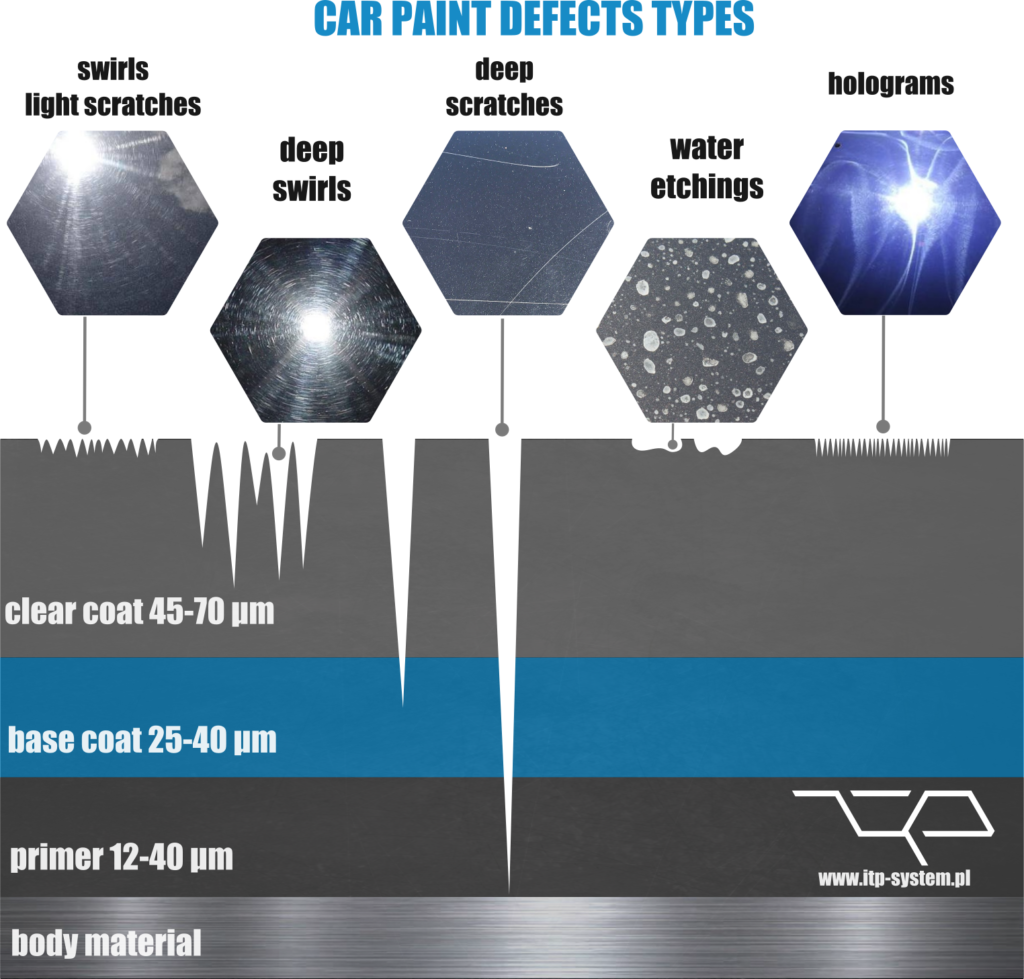 Correctly performed paint correction requires the use of appropriate polishes and polishing pads, depending on the degree of paint damage. It should be remembered that every paint is different. Brand of the vehicle, age, operating conditions and vehicle care have an impact on it.
Modern technology at hand (or actually under pad)
The ITP-System team in cooperation with experienced detailers has created a new line of polishing compounds. That guarantee excellent effect and work safety. We decided to use a water formulation that is free of silicones and synthetic solvents. It ensures efficiency, safety and saves working time. The products of the STARDUST ELITE line do not leave greasy marks or oily-silicone layers that are difficult to remove. The using of advanced emulsifiers allows the removal of the remains of the polishing compound in a few moments. You should just use demineralized water for that purpose. This has a significant impact on the subsequent application of coatings or waxes.
Thanks to advanced composition of polishing compounds, detailers do not have to spend lot of time for paint correcion. Anyone who ever applied the coating knows well that durable protection is possible only in perfectly cleaned paint free from any residues. Therefore, the correction of the varnish must end with a perfectly smooth, shiny, defect-free surface of the car paint, free of impurities.
For many people working in the auto detailing industry, environmental protection is important factor. The components of STARDUST ELITE polishing compounds do not burden the environment, thanks to which the correction of the varnish does not harm our surroundings. And unfortunately, most of the products available on the market due to the content of petroleum derivatives and silicones are not so friendly.
Please check out our new catalog and feel free to contact us if you will have any additional questions.